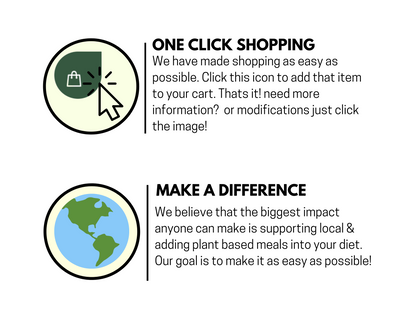 each meal kit serves 2 portions.
always 100% vegan, always 100% delicious. ready in < 20 min & includes pre made sauces & reuseable containers + online recipes. when it comes to making a difference every plate counts!
more plants on your plate & less waste in your bin.
ready to eat bowls, vegan sauces, and breakfast kits! from our kitchen to yours :)
everything you need in one place!
from vegan cheese - hot sauce - vegan patties we have TONS of delicious plant-based goodies to try! great way to treat yo' self!
Give The Gift of Plants!
Gift cards are delivered by email and contain instructions to redeem them at checkout. You can choose set amounts or enough for any number of meals + delivery!
select amount